Champions League holders Manchester United limped to a miserable scoreless draw against Spanish side Villareal at Old Trafford. The Red Devils, who welcomed back last season's hero and the summers villain, Cristiano Ronaldo, as a substitute, continued to set a trend of unremarkable paralells to their last season as defending European Champions.
Indeed, the only positive to take out of their opening group fixture was that Ronaldo was welcomed to a rapturous applause - but although a draw was a huge anti-climax to the anticipating crowd, at least signs were encouraging, even if in the slightest, from their previous domestic league game.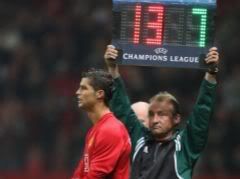 United were, realistically, the only team who wanted three points from the fixture, and were denied 2 clear penalties from fouls on Ji Sung Park in the first half. Even after Ronaldo's introduction, chances didn't suddenly materialise - although the Portguese was involved in all three of United's major openings in the second period. First, he headed wide from a cross, second, he played in Rooney, who found Tevez, whose shot was cleared off the line, and finally, his cross was headed onto the post by young Northern Irishman Jonny Evans.
Villareal, in all fairness, got the result they came for - and could have even snatched a win, after a second half backheel hit the post.
Ratings : van der Sar 6, Neville 7, Ferdinand 6, Evans 7, Evra 6, Park 6 (Ronaldo 6), Fletcher 7, Hargreaves 6 (Anderson 6), *Nani 7, Rooney 7, Tevez 6 (Giggs).